This past year has seen the revival of SEDS in Canada and a new coalition of student space enthusiasts. We come from a diverse range of backgrounds, but share a common vision: to see humanity expand into space for the betterment of all mankind.
Projects
Vision can only get you so far however. We are hard at work creating opportunities and resources that can benefit our student members. This year, we have launched our first annual Young Space Entrepreneurs (Y-SpacE) competition, designed to give students a chance to develop business plans for their ideas and pitch them to expert judges in the field. In progress is planning for our first annual astrophotography competition, SkyPixels.
March 14, 2015 marked our inaugural conference at the University of Toronto. In 2016, Ascension will be hosted by the Space Society of London at the University of Western Ontario. We expect to attract over 50 students from all over Canada, who will be able to network with each other, as well as with our guest speakers from industry, academia and government.
Ascension is also the ideal venue for hosting our annual competitions, SkyPixels and Y-SpacE. We also plan on organizing a competitive research poster session and the Young Space Leaders Roundtable, where student leaders from various clubs can share their ideas, advice and aspirations in an informal setting, with brief mentoring from veterans in the space community.
A Unified Voice
We are forming a unified network of pro-space student chapters across Canada to connect students who are passionate about space, and to support their objectives by providing opportunities and resources which have been lacking in recent years. Our membership is growing and already consists of several vibrant chapters at the University of Toronto, McGill University, York University, the University of Guelph, the University of Western Ontario, Lisgar Collegiate Institute and the University of Victoria.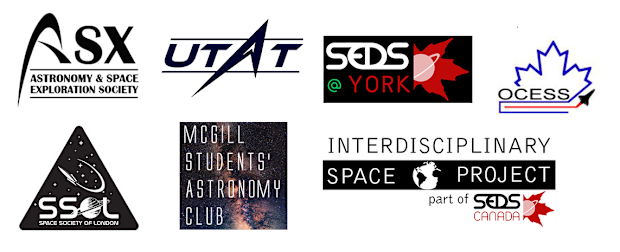 Advocacy
We are also engaging the general public and the media in a discussion about why a strong Canadian space program is important and what the benefits of investing in Canada's space program are. For example, in the 2015 federal election, SEDS-Canada helped raise the profile of the Canadian space sector by releasing weekly articles Canada's rich history as a space-faring nation, and about space exploration in general. Our message on "Why Space Matters" was endorsed by 11 student groups from Vancouver to Montreal, and was featured in the Ottawa Citizen.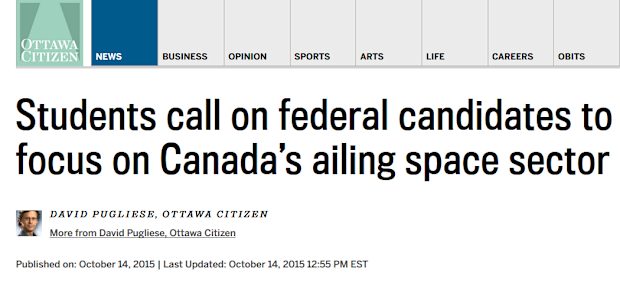 Generosity
Our goals are ambitious, and our passion and commitment are only part of the puzzle, but our success depends on the support of passionate individuals like you and the wider community. We need your help to ensure that the next generation of space industry leaders have the opportunities they need to get their careers off the launchpad. If you wish to make a contribution to our cause, check out our fundraiser on Generosity, a fundraising platform for non-profits powered by IndieGoGo.